Yoga Instructor Course [YIC] – Affiliated to VYASA
The primary objective of the course is to transform the knowledge to be able to teach yoga with confidence in a holistic manner. The course is a combination of Practical and Theory papers consisting of Asanas, Pranayama, Kriyas, Meditation and Yoga Games. They help individuals to shape the personality, improve memory, concentration, dexterity and stamina.
On completion of this course, the students will be able to teach yoga to general public and people having several health issues. Yoga is a holistic way to prevent diseases and discomforts, balance mind and body and bring harmony in the society.
This course is a foundation for those who wish to pursue Post Graduate courses in Yoga, like MSc. (Yoga & Consciousness), MSc.(Yoga Therapy) and several other courses from different universities. This course gives opportunities to teach Yoga not only in India, but also abroad. Most countries have now realized the importance of Yoga and trying to implement it there for the welfare of the people. Hence, there is a huge demand for Yoga Instructors/Trainers in countries like Malaysia, Singapore, Thailand, Australia, Vietnam and many more.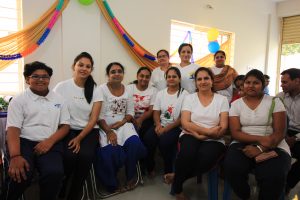 Details of the Course :
Name : Yoga Instructor Course
Duration : 3 months
Timings : Mon – Fri
(2 hours – One hour each of Practical & Theory)